Activate Science
Vielen Dank für Ihre Anmeldung bei der Activate Science.
Produktausstellungen führender Hersteller
Präsentation von Geräten, Verbrauchsmaterialien, Reagenzien & Chemikalien
Fachvorträge zu wichtigen Anwendungen
Kurzdemos
Produktmuster
Kostenlose Erfrischungen
Seien Sie dabei und erleben Sie die neuesten Produkte live. Sprechen Sie direkt mit den Herstellern und nutzen Sie die Möglichkeit, sich mit Kollegen zu vernetzen.
Join a powerful network of laboratory professionals as we showcase the latest products and innovation...
Please follow us on Twitter, Facebook and use #InspireScience
Erleben Sie mit uns Activate Science
---
Emily Quinton, European Marketing Communications Manager: "Unsere Activate Science Veranstaltungen fanden in diesem Jahr in acht europäischen Ländern statt und es haben insgesamt fast 3000 Besucher teilgenommen. Die Veranstaltungen bieten großartige Networking-Möglichkeiten und Besucher können direkt an einem Kundenstandort die neusten Produkte erleben und kennenlernen."
Die Activate Science Veranstaltungen sind für all diejenigen gedacht, die in Laboratorien arbeiten, gleichgültig, ob sie Produkte anwenden oder einkaufen. Die Events bieten eine hervorragende Gelegenheit, sich zu vernetzen und vor Ort miteinander zu sprechen. Genau dies, sich außerhalb des Laboralltags mit Fachleuten der Hersteller in ungezwungener Atmosphäre unterhalten zu können, wird von unseren Besuchern sehr geschätzt. Darüber hinaus werden auf den Activate Science Events arbeitsbezogene Seminare angeboten, die über die neusten Techniken und Entwicklungen im Labor informieren – das alles, um Sie getreu unserem Motto in die Lage zu versetzen, die Welt gesünder, sauberer und sicherer zu machen.
Besuchen Sie uns! Reservieren Sie sich Ihren Activate Science Platz noch heute.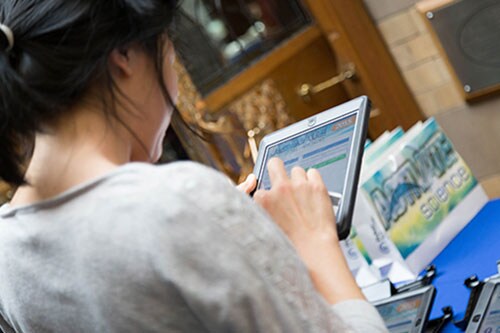 Ort:
Derzeit sind keine Activate Science-Veranstaltungen zur Anmeldung verfügbar. Bitte schauen Sie in Kürze wieder vorbei.